All Nippon Airways (ANA) is the largest airline in Japan. With flights from the United States to Japan and all of Asia, it's the perfect airline to book your next trip with. From ANA's amazing in-flight food to its excellent customer service, it comes as no surprise ANA has been awarded five stars for its seventh consecutive year by the SKYTRAX World Airline Rating.
ANA Premium Economy starts from the moment you enter the airport. With priority check-in, baggage pick-up and lounge access, you'll feel catered to before your flight. Experience the enhanced comfort of a 38-inch seat pitch, together with a large-sized monitor providing the best entertainment experience. Enjoy exclusive services included, but not limited to, business-class desserts and sparkling wine.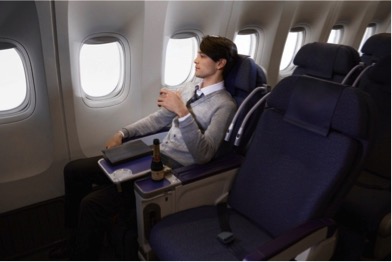 Want a little more? Travel to Asia in ANA BUSINESS STAGGERED, configured to provide every guest with an unforgettable flight experience, from every seat having aisle access to the delectable dining experience created by THE CONNOISSEURS, a team consisting of master chefs and beverage specialists. Relax in our spacious, fully flat-bed seats, prepared for your comfort with quilts and bed paddings. Whether you're traveling for work or leisure, an expansive sliding table creates the perfect environment to finish creating your itinerary or setting your out of office e-mail.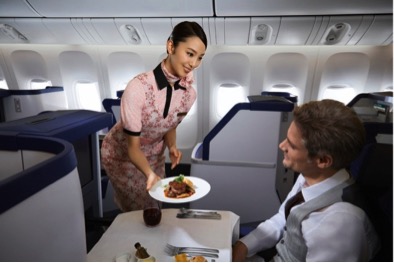 Explore the birthplace of sushi, manga and ramen or visit iconic sites like the Tokyo SkyTree when you fly from one of our nine U.S. gateway cities (Los Angeles (LAX), San Francisco (SFO), San Jose (SJC), Seattle (SEA), Chicago (ORD), Houston (IAH), Washington, D.C. (IAD), New York (JFK), Honolulu (HNL), Vancouver (YVR) and Mexico City (MEX)). With services from North America to Tokyo and over 45 cities in Japan, we can take you there! Visit fly-ana.com to find out more.
Search Business Class fares here.
Embrace sustainability on the road with KeepCup. The Australian company offers reusable coffee cups in a variety of colors and sizes.
Sponsored Content
For most of us, time in the car is "me time." You can listen to that podcast you're captivated by, blast that pop song and sing along at the top of your lungs or listen to the next chapter in that biography e-book you're almost finished. A road trip only amplifies those opportunities. So, next time you're traveling by road, take the wheel and take control. Opt for a rental car on your next vacation, rather than a rideshare, taxi or public transportation, and enjoy the open road on your own terms.
Carry-on luggage should be easy to handle and, if you pack well, you can squeeze a lot of items in the tiny space. Roll out in style and comfort with this carry-on luggage on your next trip.
Tel Aviv is a city on Israel's Mediterranean coast, labeled the "Mediterranean Capital of Cool' by The New York Times. Here's how to explore the city while staying under budget.
Sponsored Content
We can see it now and remember when it happened to us: Watching as the black car icon loops around and around, seemingly endlessly, and our wait time on the rideshare app continually changes. Long wait times and confused drivers are just a few bothersome issues that can nag at rideshare users. Need a solution? Ditch rideshares altogether in favor of renting a car on your next trip.
There's more to the Dakotas than Fargo films, TV shows and Mount Rushmore. Between North Dakota and South Dakota, adventure travelers have their hands full with activity and incredible destinations to explore.